25 Most Common Jobs in USA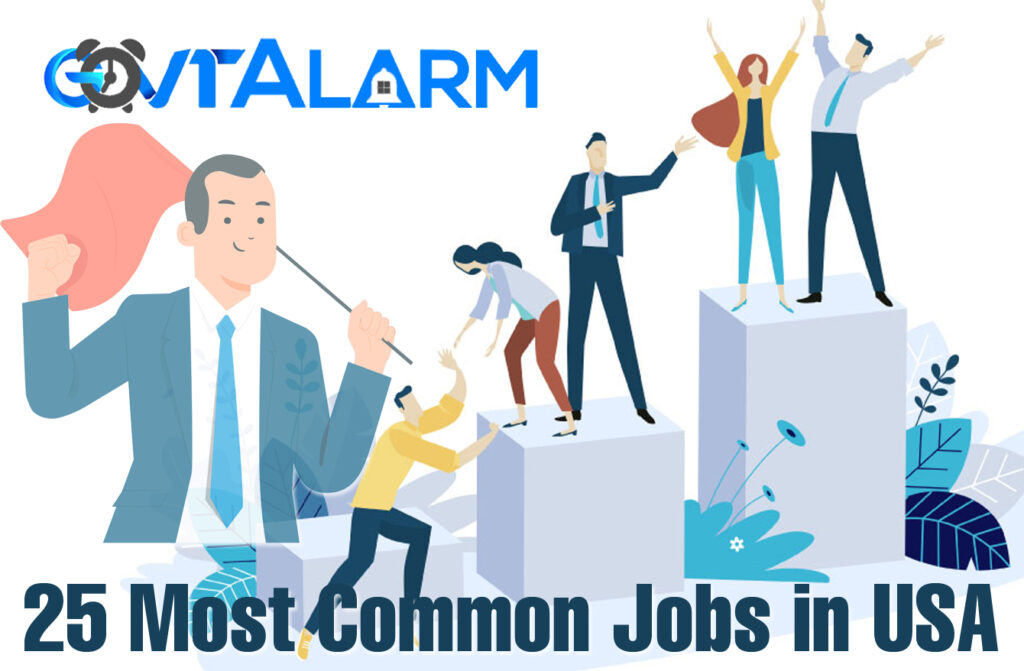 Introduction
When we think of the most common jobs in America, it's easy to guess at a few. For instance, certain healthcare and retail jobs come to mind right away. But what if you wanted to explore further? What if you wanted to know which jobs are the most common, or which ones have grown significantly over the past decade? In this blog post, we will look at the 25 most common jobs in America. From Registered Nurses and Retail Salespersons to Construction Workers and Office Clerks, get ready to find out who is responsible for getting things done in the US. Uncovering these occupations will also help us understand more about our economic landscape and how it has changed in recent years.
Administrative assistant
Administrative assistants are responsible for providing administrative support to an organization. They perform a variety of tasks, including answering phones, scheduling appointments, and preparing reports. Many administrative assistants also provide customer service.
The duties of an administrative assistant vary depending on the size and type of organization they work for. However, there are some common tasks that most administrative assistants perform. These include answering phones, scheduling appointments, preparing reports, and providing customer service.
Answering phones is one of the most important duties of an administrative assistant. They must be able to answer calls in a professional manner and route calls to the appropriate person or department.
Scheduling appointments is another common task for administrative assistants. They must be able to schedule appointments in a timely manner and keep track of upcoming events.
Preparing reports is another responsibility of administrative assistants. They may be required to prepare weekly or monthly reports detailing the activities of their department or organization.
Providing customer service is another common duty of administrative assistants. They may be required to assist customers with questions or concerns about products or services offered by their company.
Teacher
There are a variety of teaching jobs available in America, from preschool to high school. The most common teaching job is a elementary school teacher. According to the Bureau of Labor Statistics, there were 1.5 million elementary school teachers in America in 2016. Other common teaching jobs include middle school teachers, special education teachers, and high school teachers.
Accounting and finance professional
There are many different types of accounting and finance professionals in America. The most common jobs include auditors, accountants, and financial analysts.
Auditors are responsible for examining financial statements and ensuring that they are accurate. They may also provide recommendations on how to improve financial practices.
Accountants prepare financial statements, manage finances, and provide tax advice. Financial analysts examine trends and forecast future economic conditions.
Customer service representative
Customer service representatives are one of the most common jobs in America. They are responsible for providing customer service and support to customers of a company. They may work in a call center, retail store, or office. Customer service representatives typically have good communication and people skills. They must be able to effectively solve customer issues and complaints.
IT professional
There are a lot of IT professionals in America! They help keep our computers and networks running smoothly and efficiently. Many IT professionals work in corporate settings, helping to maintain and troubleshoot company-wide systems. Others may work for government agencies or as consultants. Some IT professionals even work from home! No matter where they work, IT professionals play a vital role in keeping our country connected and running smoothly.
Human resources professional
Most people think of human resources (HR) as the department that handles hiring and firing, but HR professionals do much more than that. They also handle employee benefits, training, and development. In large organizations, HR may also be responsible for employee relations, payroll, and labor relations.
The Bureau of Labor Statistics projects that employment in human resources will grow by 7 percent from 2019 to 2029, faster than the average for all occupations.
Food service worker
Food service workers are responsible for preparing and serving food in restaurants, cafeterias, and other foodservice establishments. They typically work behind the scenes in the kitchen, but may also be responsible for serving food to customers.
The duties of a food service worker vary by establishment, but generally include preparing food, cleaning the kitchen and dining area, and stocking supplies. In some cases, food service workers may also be responsible for cooking food or taking orders from customers.
There are many different types of food service worker jobs, from fast food restaurant workers to fine dining servers. The most common job titles for food service workers are waitress/waiter, chef/cook, and dishwasher.
Police officer
In America, the most common job is a police officer. There are over 700,000 police officers in the United States, which is more than twice the number of any other country. Police officers have a very important job: to keep our communities safe. They do this by patrolling our streets, investigating crimes, and arresting criminals.
Police officers must be physically fit and have excellent communication and problem-solving skills. They must also be able to deal with difficult situations calmly and effectively. Most police officers have at least a high school diploma, although some have college degrees as well.
If you are interested in becoming a police officer, you can learn more about the requirements and training process on the website of your local police department or the website of your state's criminal justice agency.
Customer Service Representative
A customer service representative is responsible for providing assistance to customers with product questions, concerns, or issues. They may also be responsible for upselling products or services, processing orders or returns, and resolving customer complaints. Customer service representatives typically work in a fast-paced environment and must be able to multitask and handle customer inquiries in a polite and professional manner.
Secretary
The most common job in America is that of a secretary. A secretary is responsible for handling many different administrative tasks for an organization. They may be responsible for answering phones, taking messages, scheduling appointments, and handling other clerical duties. A secretary may also be responsible for maintaining records and filing documents.
Construction Worker
Construction workers are one of the most common jobs in America. There are many different types of construction workers, from those who work on residential projects to those who work on commercial projects. Construction workers typically have a high school diploma or GED. Some construction workers may have special training or certification in a particular area, such as asbestos removal.
Most construction workers work full time, and some work more than 40 hours per week. Construction workers may work outdoors in all weather conditions. They may also be required to lift heavy objects and use power tools. Construction workers typically earn an hourly wage, and they may also receive benefits such as health insurance and paid vacation days.
Computer Support Specialist
A computer support specialist is a professional who provides assistance and support to computer users. They are responsible for diagnosing and resolving computer issues, as well as providing technical support to users.
Computer support specialists typically work in an office environment, though they may also be required to travel to user locations. They may work independently or as part of a team of IT professionals.
The job outlook for computer support specialists is positive, with an expected growth rate of 11 percent from 2018 to 2028. This growth is due in part to the continued reliance on computers and technology in both businesses and households.
Market Research Analyst
As a market research analyst, you will be responsible for conducting market research and analysis to help businesses understand the needs and wants of their customers. This can involve everything from customer surveys to data analysis to trend forecasting. It's an important job that can help businesses make key decisions about their products, services, and marketing strategies.
Conclusion
The 25 most common jobs in America today are a testament to the workforce's diversity and the importance of having multiple career paths available to job seekers. From retail salespersons to registered nurses, there is something for everyone regardless of their educational background or skill set. No matter what kind of job you're looking for, remember that hard work and dedication will always be rewarded with success. Good luck!